WRF Library
The World Research Foundation Library Network is a collection of libraries located around the world.
The main portion of WRF's own holdings is located in a private library in Sedona, Arizona.
---
Important note:
Library visitation is by invitation or appointment only.
Please call us at (928) 284-3300 for more information.
---
Comprised of over 30,000 volumes, the library features information on all forms of health therapies from cowdung therapy (agni hotra) to chemotherapy. The library also houses a large number of books dealing with philosophical subjects as far back as the 16th century.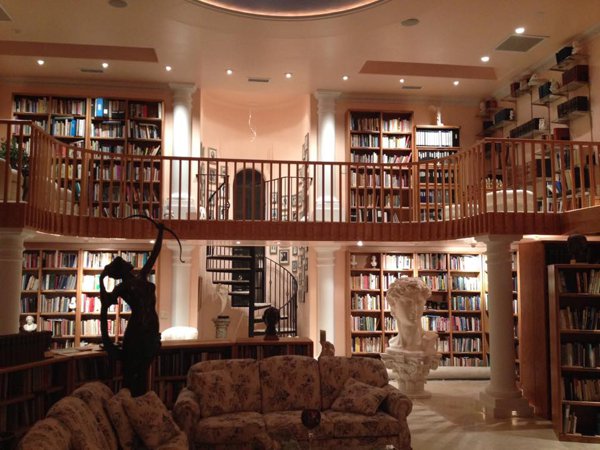 The library's atmosphere is very conducive to quiet reading or research. Visitors are overwhelmed with the beautiful furnishings and artwork.
Description
Amidst statues and magnificent works of art, one will find books representing virtually all of the major philosophical schools. In addition, there are several unique collections, including:
direct copies of 17th century books on alchemy
the complete journals and notebooks of Ralph Waldo Emerson
the collected writings of Blavatsky
the Dial Magazine of the Transcendentalists
a direct copy of the 1590 edition of the collected works of Paracelsus
the complete lectures of Manly Hall dating back to the 1930's
the collected works of Dinshah Ghadiali from the 1920's
…and much more.
In addition, the library features books dating back to the 1800's in virtually all health regimes. This health section is indexed in two ways. Visitors can go to shelves labeled with specific health topics and find holistic, alternative, complementary and non-traditional therapies from around the world that have been used for particular problems. Specific shelves also contain books on particular therapeutic techniques. For example, there are over 300 books on color therapy, over 250 books on homeopathy, more than 150 books on acupuncture, and several thousand books on general health, herbs, natural vitamins, minerals, etc.